Make Your Content PREsell!
How To Build Your Brand of One and Create Income Through Content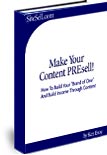 The Only Book Of Its Kind Is Now FREE!
Want to write effectively for the Web? Want to deep-connect with visitors to your site? Want to have raving fans of your e-zine, not merely "satisfied subscribers?"
It's all part of "PREselling"... that critical period of relationship-building before the sale.
Enter... Make Your Content PREsell! ("MYCPS!"). This is a quantum-leap book, unique in the literature of Net marketing.
Completely updated, including a special section on social media.
There are over 100 books about writing to sell online. There is only one book about writing to communicate... about writing to "PREsell."
PREselling is the critical component in a process that has been proven to succeed by (so many - remove the "so many") thousands of small business people...
Content

Traffic

PREsell

Monetize
Connect with your visitor... and the world is yours. Make Your Content PREsell! ("MYCPS!"), and only MYCPS!, shows you how to do exactly that. Formerly sold separately, or as part of SBI!, MYCPS! is now totally free.
And That Is What MYCPS! Will Do For You
The information inside Make Your Content PREsell! is critical to the success of any online business. It shows you how to write about what you know and love, how to establish your voice, how to create a site that sparks.
Think you cannot do that? Think you cannot write?
Wrong, anyone can. You just need a key to unlock your keyboard. After all, you can talk and communicate in day-to-day-life, right? MYCPS! will unlock your keyboard.
And the lessons are the same, no matter what kind of small business you plan or already have online. If you want to create a pure information site, do it with greatness, like this. Or do you want to sell sell hard goods? Or maybe e-goods or services? No matter why you're online, no matter what your current skills and goals...
You just need to know how to communicate.
"I am now, officially, the Best Storyteller in Ireland! I found much of the confidence to do this and to express myself in this way thanks to SBI. It encourages us to speak with our own "unique voice". I didn't have one of those till I started my first SBI site. Now, my "voice" has helped me find and define my personality and the life I want to lead."
- Paul O'Brien (isometric-training.com)
Relax... Everybody Can Write To Connect!
There is no mystery to good writing. No secret society. No smoke and mirrors.
It's just a matter of undoing the damage inflicted upon you by your schooling... and unlocking what's already inside you.
MYCPS! provides all the guidance and strategies you need to write winning online content: relevant, personality-filled Web pages that make your business stand out... and open your visitors' minds to the many possible methods you can use to earn income.
"This book is absolutely perfect for someone starting out online. Read this, and you'll avoid all the mistakes so many of the rest of us have struggled through over the years.
But this book is also for everyone else who writes or edits content online. It doesn't matter how sophisticated you are, or how huge and successful your site may be... the way in which Ken presents and expresses the information does a wonderful job of reminding us what really matters, and what doesn't."
- Nick Usborne (excessvoice.com)
Topics include...
How to design a clean and intuitive website that "sets the mood" for business
The importance of knowing your customer and what she wants
The A-B-C of how to write for an online audience
AHow to use social media channels like Facebook to build an even closer bond with your visitors
An introduction to C T P M... a process that has helped tens of thousands of ordinary people write their own paycheck.
The educational system has NOT improved over the decades, either. I encourage you to share MYCPS! with your teenaged and older children, to teach them how to write TO COMMUNICATE. This is simply a critical skill set that EVERYONE needs, but that is not being taught.
A Bit Of Background
As the concept of C

T

P

M evolved, it became clear that SBI!'s all-in-one business-building system makes every step of that powerful, natural process totally do-able. In short, the 80+ SBI! "programmed" modules and sub-modules eliminate the technical or tedious jobs so that you can focus on building your BUSINESS.
But one of the key steps of the process, PREselling, has no "programmed module." It requires you to own a key skill. So...
This book shows you exactly how to write to PREsell. No programmer in the world can build a module that will write effectively for you (thank goodness -- if a computer program could write for you, you would not be necessary, would you?)
I've learned how to "PREsell-write" during the many years that I've been working on the Net. I did it the hard way, through trial and error. I've learned a lot more from our customers and their feedback... and through their results.
It did not all come at once. From those early days, right up to today, I continue to learn as I go along... improving content, OVERdelivering what our customers want, letting one's own voice flow more naturally. And now...
I've put everything I know about this topic, and all that I've learned from thousands of SBIers during this remarkable SBI! voyage, into this book. So you can "have it all come at once."
No... you won't become a brilliant writer overnight. But anyone (with average IQ and some motivation) can indeed write effectively. It starts by dropping the baggage of what you've "mislearned" (or never learned). Read this book -- MYCPS! is crucial for your online success.
And then practice what it preaches. Only practice-practice-practice will deliver the actual benefits. Like SBI! itself, this book is a mere catalyst. It's up to you to wring all the benefits out of it.
All the best,



President, SiteSell.com 
Free Download!
Completely updated, including a special section on social media.
Learn how to write to communicate.

MYCPS! shows you how to acquire this valuable skill. Everything you write will be more effective.

Click here to start reading MYCPS! today.

(Prefer to download & print PDF files? Right-click the above link.)